Location: Northumberland County N 44 02.524 W 077 44.386
In a park on the north side of Main Street, at Kingsley Avenue.
One of the newest memorials in Ontario, replacing the old memorial with a more updated and bilingual version. It is my understanding that the brass plaques of the old memorial, which was unveiled in 1927 by Sir Arthur Currie, will be on display in the local Legion Branch 100 Brighton.
This new memorial was unveiled in October of 2012 in Memorial Park, on the same spot as the old. Featuring an impressive piece of granite, with the names of all those lost from the local community, and the many conflicts our forces have endured.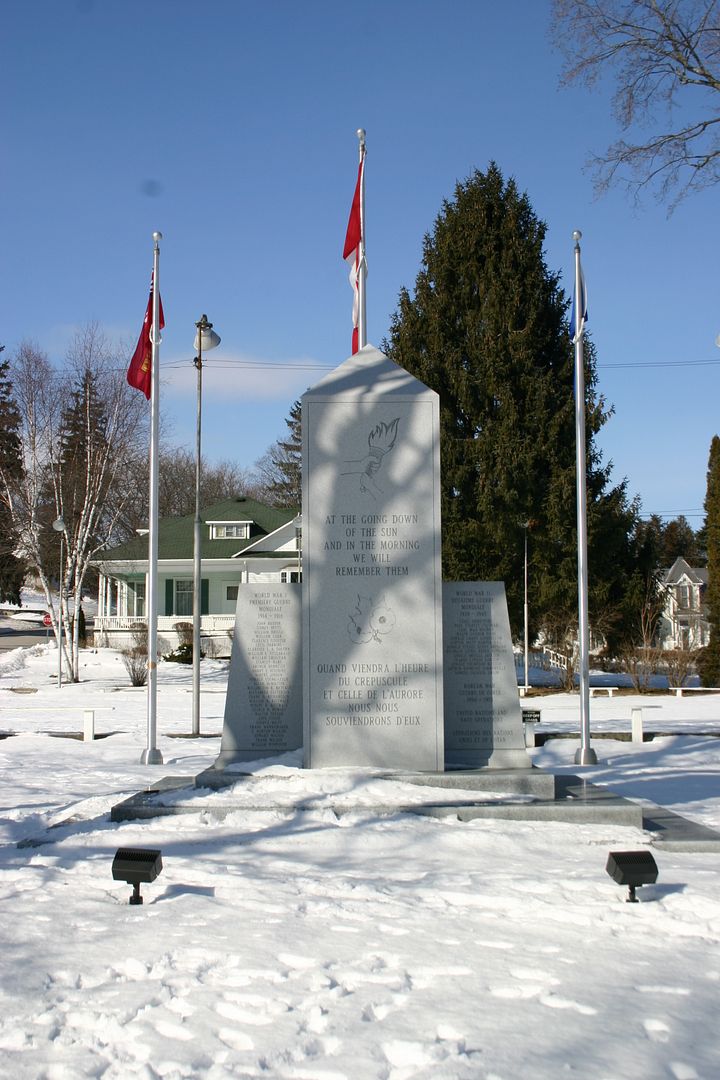 Marker text: (English text only)
Front:
AT THE GOING DOWN
OF THE SUN
AND IN THE MORNING
WE WILL
REMEMBER THEM
WORLD WAR I
1914-1918
JOHN BAXTER
SIDNEY BETTS
WILLIAM BRIGGS
WILLIAM CARR
CLARENCE COULTER
CECIL DARKINS
CLARENCE L.A. DAVERN
WILLIAM E. FITZGERALD
WILLIAM GROSJEAN
STANLEY HARE
ARTHUR HENNESSY
HARRY F. HITCHINS
ROBERT JOBSON
DONALD YOUNG-LESLIE
ALLAN McMASTER
WELLINGTON R. METCALF
ALEXANDER PATTERSON
FRANK D. RICHARDSON
WILLIAM H. RITTWAGE
ROBERT R. RITTWAGE
GEORGE R. ROWLEY
WALTER TAYLOR
JOHN TOUGH
GEORGE WAITE
FRANK WANNAMAKER
C. BURTON WILKINS
EDWARD WILSON
FRANK WILSON
WILLIAM WINDOVER
WORLD WAR II
1939-1945
LYALL ARMSTRONG
PAUL EVERETT COLTMAN
CARL MAX DOONAN
DONALD GRANT GOODFELLOW
CLIFTON WATT HARPER D.F.C.
DONALD STUART REDDY HEPBURN
REGINALD LIONEL REDDY HEPBURN
GERALD ORVILLE JACKSON
CLARKE LYNSON LAWSON
GERALD THOMPSON MUTTON
ARTHUR RAYMOND SOMMERVILLE
SAMUEL JACKSON SWAIN
KOREAN WAR
1950-1953
UNITED NATIONS AND
NATO OPERATIONS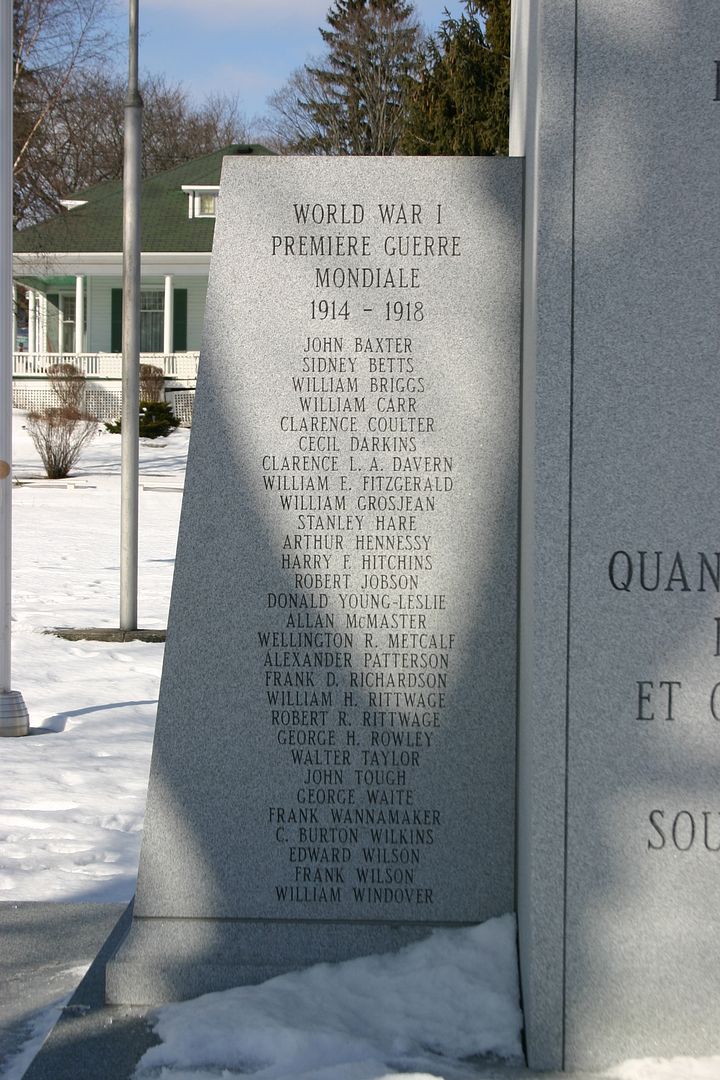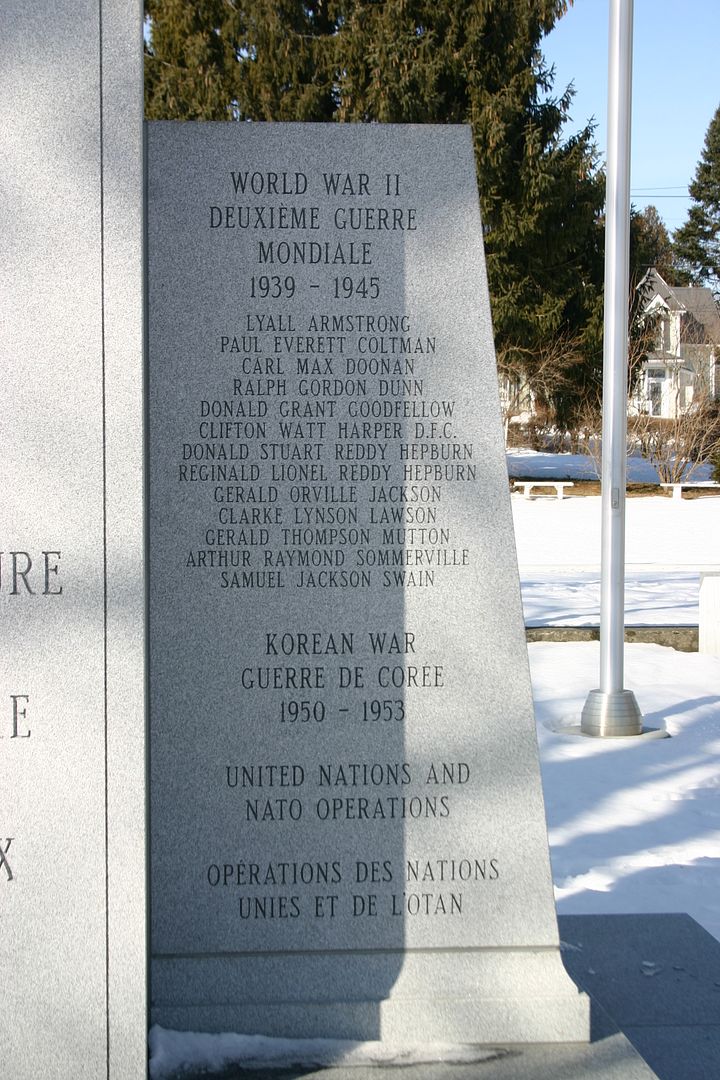 Back:
IN THE
SERVICE OF CANADA
IN
WAR AND PEACE
"LEST WE FORGET"
NILE EXPEDITION
1884-1885
BOER WAR
1899-1902
AFGHANISTAN WAR
2001-2011
MILITARY ROLES
DEFENCE OF CANADA
AND NORTH AMERICA
INTERNATIONAL
PEACE AND SECURITY
WORLD-WIDE
DISASTER RESPONSE
SECURITY OF
INTERNATIONAL
EVENTS IN CANADA