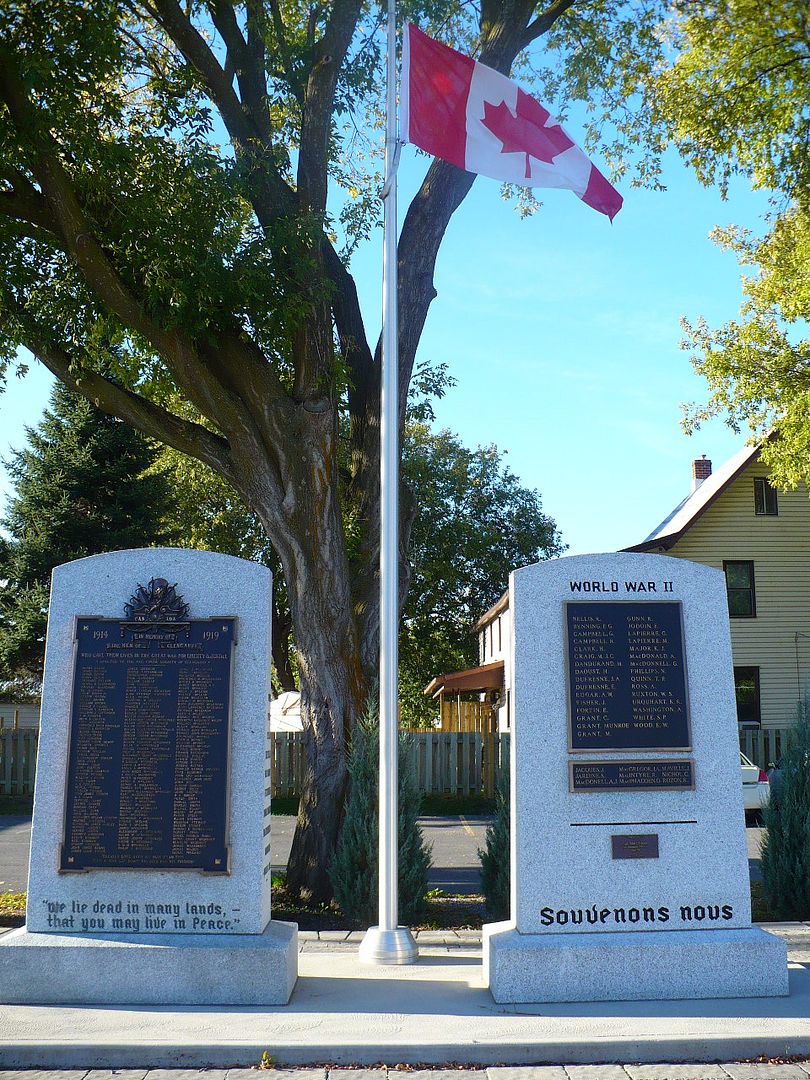 Location: County of Stormont, Dundas and Glengarry
N 45 08.452 W 074 29.980
On the north side of Duncan Street, just east of Main Street.
Originally erected in 1921, by the Red Cross Society of Glengarry, to honour those from this district who died in the First World War. At first, this memorial consisted of a single marble shaft with a large brass plaque. The memorial was later renovated with two new marble shafts, and the original brass plaque was refurbished to its present-day condition. The second shaft bears the names of those lost in World War II, Korea and Afghanistan.
A pleasant park greets the visitor, with benches and landscaping in keeping with the solemn message of remembrance. One of the trees was planted in 2009 to commemorate the 100th anniversary of flight in Canada. Take time to reflect, and admire the sacrifice of the long list of names from the Glengarry region.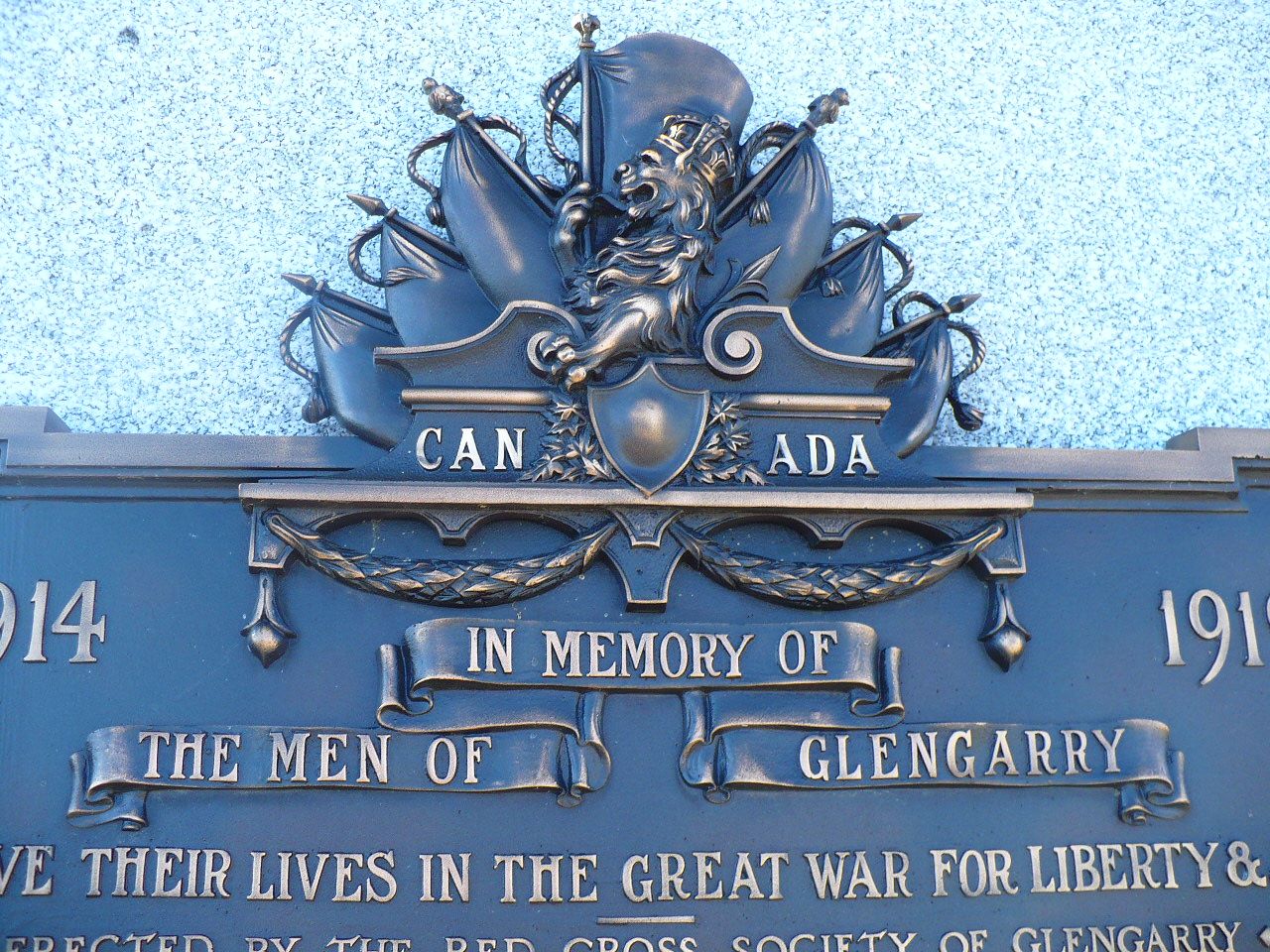 Marker text
Left shaft:
Front:
CANADA
1914
1919
IN MEMORY OF
THE MEN OF GLENGARRY
WHO GAVE THEIR LIVES IN THE GREAT WAR FOR LIBERTY AND JUSTICE
ERECTED BY THE RED CROSS SOCIETY OF GLENGARRY
HENRY BARRY, JAMES BERCIER, BENNY BEYOR, HENRY BEYOR, BERNARD BILLARD, HARTLY D. BLACKWOOD, CHARLES BLANCHARD, ELI BOVINEAU, LOUIS BOVINEAU, JOSEPH BROWN, MEDOS BROWN, WILLIAM BROWN, DONALD J. CALDER, DOUGLAS U. CAMERON, WILLIAM J. CATTANACH, D.M. CHRISTIE, HUGH F. CHRISTIE, FRED CHADWICK, ARCHIBALD HUGH CHISOLM, DONALD A. CHISOLM, GEORGE COKER, DOLPHUS CREPE, JOSS DERUCHIE, DUNCAN LORNE DEWAR, McLAREN DINGWALL, PETER DICK, WILLIAM DOUGLAS, DANIEL DOULL, A. LIVINGSTON DUNLOP, JOHN DYER, THOMAS ELLIS, JOHN ELLISON, W. HAROLD FALKNER, ANDREW FERGUS, WILLIAM J. FILION, FRED FLYNN,
A.L. FOULDS, NEVILL FRASER, STANLEY FRASER, JOHN JAMES GORDON, W.T. GOVAN, CLIFFORD GRANT, GEORGE GRAVEL, DUNCAN GREY, WILLIAM GUNN, JOHN HALDANE, ALEXANDER McLEAN HOUSTON, WILDFRED HURTUBISE, CORNELIUS JAMES HURLEY, ALFRED JACQUES, ALFRED JODOIN, EARNEST JOHNSTON, ETHAN KENNEDY, NEIL KENNEDY, STUART KENNEDY, JOHN JAMES KENNY, JAMES LOUIS LAFAVE
JAMES LEFEBVRE, GEORGE LAFRAMBOISE, CHRISTOPHER LALONDE, DAVID LAROCQUE, WILLIAM LEBEAU, JOHN LAUBER, SIMON LAFERRIERE, HOMER LINDSAY MATHESON, JOHN RENWICK MATHESON, ALEX MEARS, CLIFFORD W. MELLOR, CLIFFORD MERKLEY, FRANCIS J. MOFFATT, OLIVER MONTREUIL, DONALD HUGH MONRO, HECTOR WILLIAM MURRAY, ALEXANDER DUNCAN MacDONALD, ALLAN JOSEPH MacDONALD, ALLAN RORY MacDONALD, DUNCAN ALEXANDER MacDONALD, DUNCAN JOSEPH MacDONALD, DUNCAN JOSEPH MacDONALD, GARRETT MacDONALD,
JOSPEPH KENNEDY MacDONALD, ALLAN W. MacDONALD, GEORGE FRASER MACDONALD, HUGH R. MACDONALD, ALEXANDER CLARE MACDONALD, CHARLES ANGUS MACDONALD, A. GORDON MacDOUGAL, EDWIN J. MacDOUGAL, ANGUS A. MacDOUGALD, JOHN ANGUS MacDOUGALL, A. DANIEL MACINTYRE, PETER MacKERCHER, PETER R. MacLAREN, GEORGE A. MACLENNAN, DUNCAN DAN MacMILLAN, SHELDON ALEXANDER MacMILLAN, KERL MACNAUGHTON, ARTHUR McARTHUR, DONALD A. McARTHUR, DUNCAN McCALLUM, MALCOLM J. McCALLUM, DONALD McCORMICK, HUGH McCORMICK, ARCHIBALD F. McCRIMMON, DONALD McCUAIG, HUGH F. McCUAIG, JAMES McDIARMID, ALEXANDER A. McDONALD, ALLAN R. McDONALD, ANGUS JOSEPH McDONALD, ARCHIE R. McDONALD, D.D.D. McDONALD, PHILIP J. McDONALD
JAMES McDOUGALL, DONALD McGILLIS, RODERICK McGILLIS, ARCHIBALD D. McGILLIVRAY, ARCHIE R. McGREGOR, JANET McINTOSH N.S., ALLAN McKILLOP, HUGH J. McLEAN, WALTER McLEAN, ALLAN McCLELLAN, DONALD M. McCLENNAN, HUGH SYLVESTER McCLENNAN, JOHN LAWRENCE McCLENNAN, RODERICK McCLENNAN, ALEX A. McLEOD, DONALD NEIL McLEOD, KENNETH URQUHART McLEOD, WALLACE McMARTIN, ALLAN McMILLAN, DONALD JOHN McMILLAN, DONALD JOHN McNAUGHTON, ARCHIBALD McPHEE, JOHN H, McPHEE, WILLIAM McPHEE, ALEXANDER McVICAR, CLAUDE NUNNEY, EDWARD PATTERSON, RUSSELL PHILLIPS, DENNIS POIRIER, JEROME POULIN, JOSEPH POTTER, CHARLES GEORGE PROCTOR, FRED REDMOND, JOHN LEO RICHARDSON, CLARENCE JOHN ROSS, JOHN ROSS, JOSEPH SAMSON, GEORGE SELLY, LOUIS SHEPHERD, W.A. SMILLIE, PETER SMITH, SAMUEL SMITH, DOUGLAS SMITH, D. LYALL SQUAIR, WALTER ST.JOHN, FRANK STEER, ALLAN STEWART, WEBSTER STEWART, GREGOR STUART, MURRAY C. SUTHERLAND, ALBERT TOBIN, DANIEL PATRICK TOBIN, ARPAD GRANT URQUHART, KENNETH URQUHART, JAMES WILLIAMSON, JAMES WILSON, LESLIE YOLLAND
"GREATER LOVE HATH NO MAN THAN THIS,
THAT A MAN LAY DOWN HIS LIFE FOR HIS FRIENDS."
"We lie dead in many lands, -
that you may live in peace."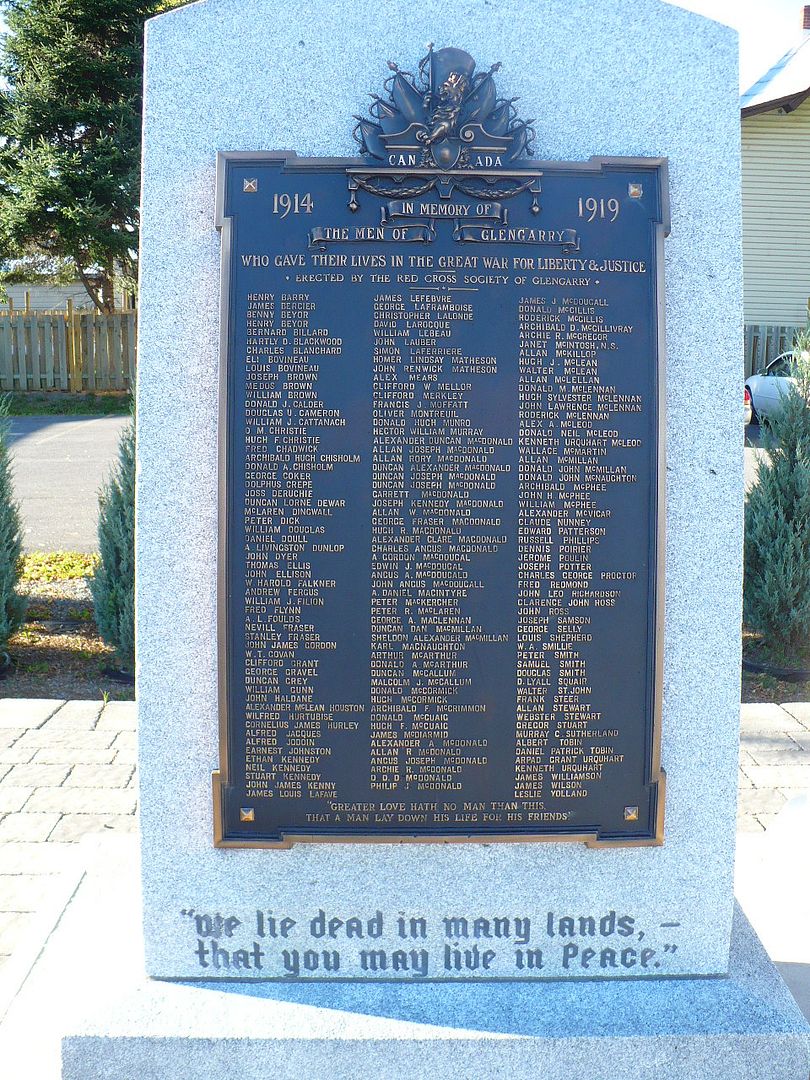 Left side:
MONS
YPRES
ST. ELOI
THE SELLE
THE SCARPE
FESTUBERT
CANAL DU NORD
VALENCIENNES
DROCOURT-
-QUEANT LINE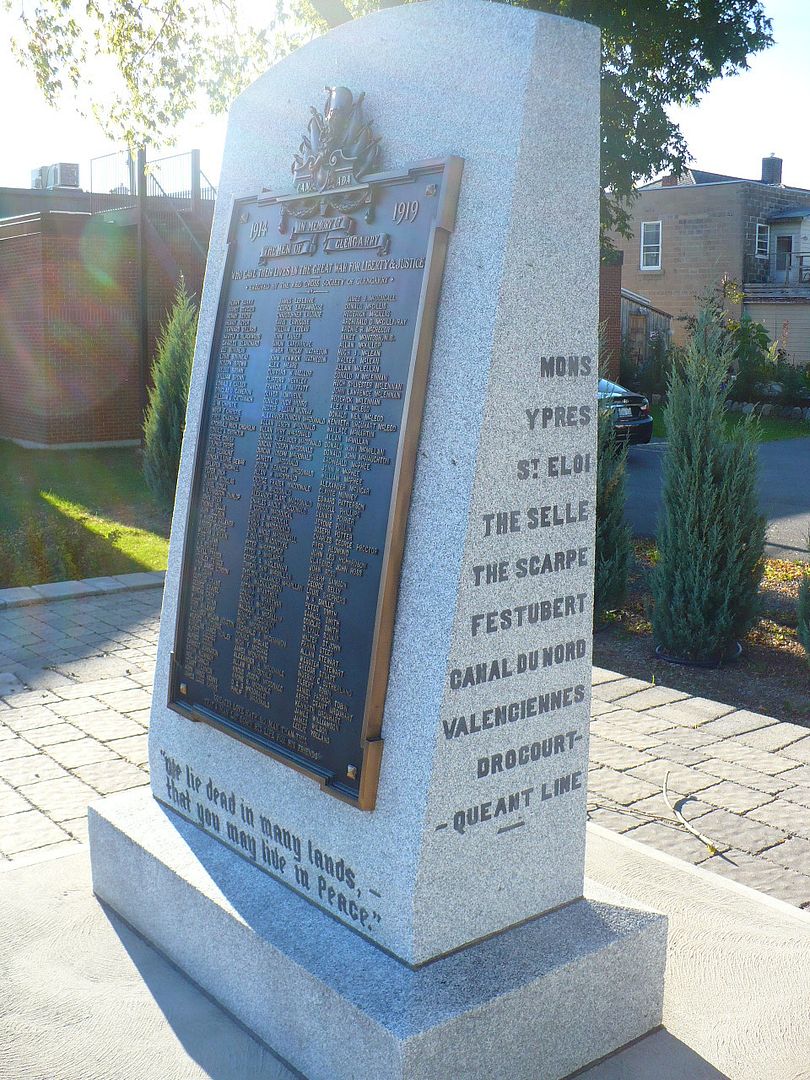 Right side:
ARRAS
HILL 70
AMIENS
CAMBRAI
THE SOMME
THE SAMBRE
VIMY RIDGE
MOUNT SORREL
PASCHENDAELE
Back:
"LEST WE FORGET"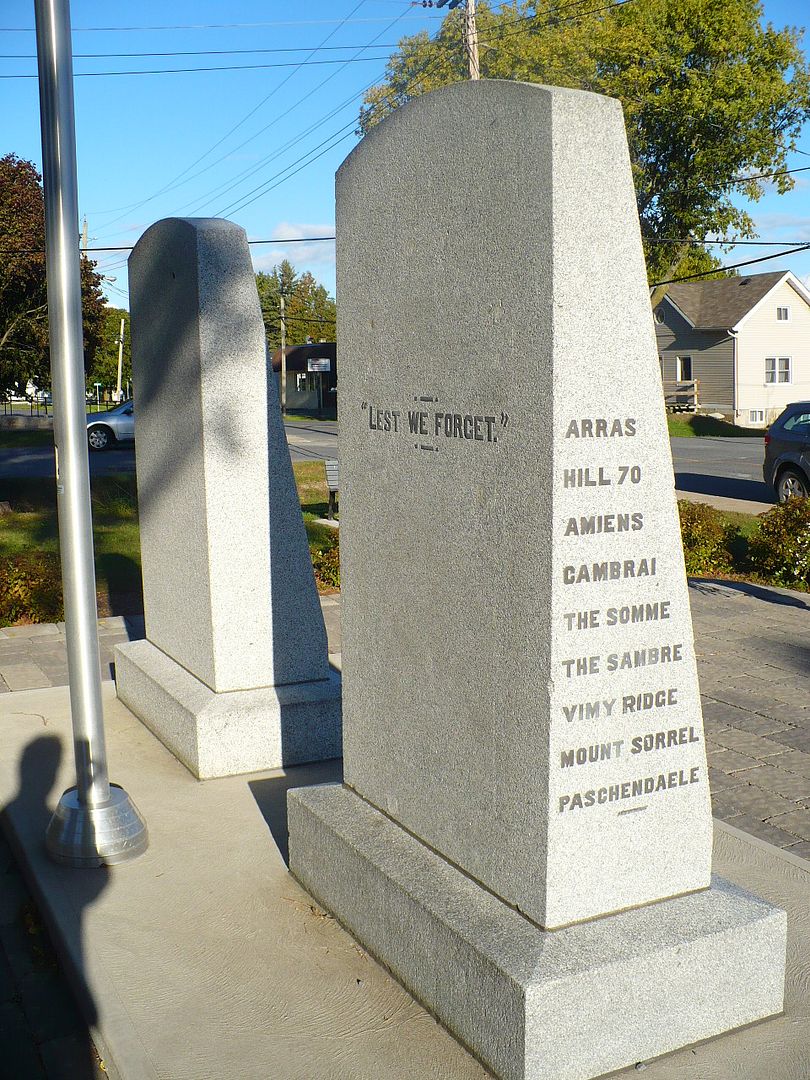 Right shaft:
WORLD WAR II
BELLIS, R.
BENNING, F.G.
CAMPBELL, G.
CAMPBELL, R.
CLARK, H.
CRAIG, M.J.C.
DANDURAND, M.
DAOUST, H.
DUFRESNE, J.A.
DUFRESNE, E.
EDGAR, A.W.
FISHER, J
FORTIN, E.
GRANT, C.
GRANT, MUNROE
GRANT, M.
GUNN, R.
JODOIN, E.
LAPIERRE, G.
LAPIERRE, M.
MAJOR, K.J.
MacDONALD, A.
MacDONNELL, G.
PHILLIPS, N.
QUINN, T.P.
ROSS, A.
RUXTON, W.S.
URQUHART, K.R.
WASHINGTON, A.
WHITE, S.P.
WOOD, E.W.
JACQUES, J.
JARDINE, K.
MacDONNELL, A.J.
MacGREGOR, J.A.
MacINTYRE, R.
MacPHADDEN, O.
MAVILLE, J.
NICHOL, C.
ROZON, R.
Afghanistan
Sgt. Marc Leger
(3rd Battalion, PPCLI)
Age 29
April 17, 2002
Souvenons nous