Location: Peterborough County N 44 27.745 W 078 22.359
In a small park at the intersection of Mississauga Street and Chemong Street.
This cenotaph, a tribute to the members of the Curve Lake First Nation Band, who served in the major conflicts of the 1900's. It stands proudly in a small, well-kept park near the village centre. The ground surrounding the memorial is in the form of a medicine wheel, which gives great strength to the names engraved on this marker. Originally erected in 1987, it was updated and re-dedicated in 2011.
The small park is adorned with benches, a gazebo, landscaping and the flags of Canada, Ontario, and the Flag of the Curve Lake band.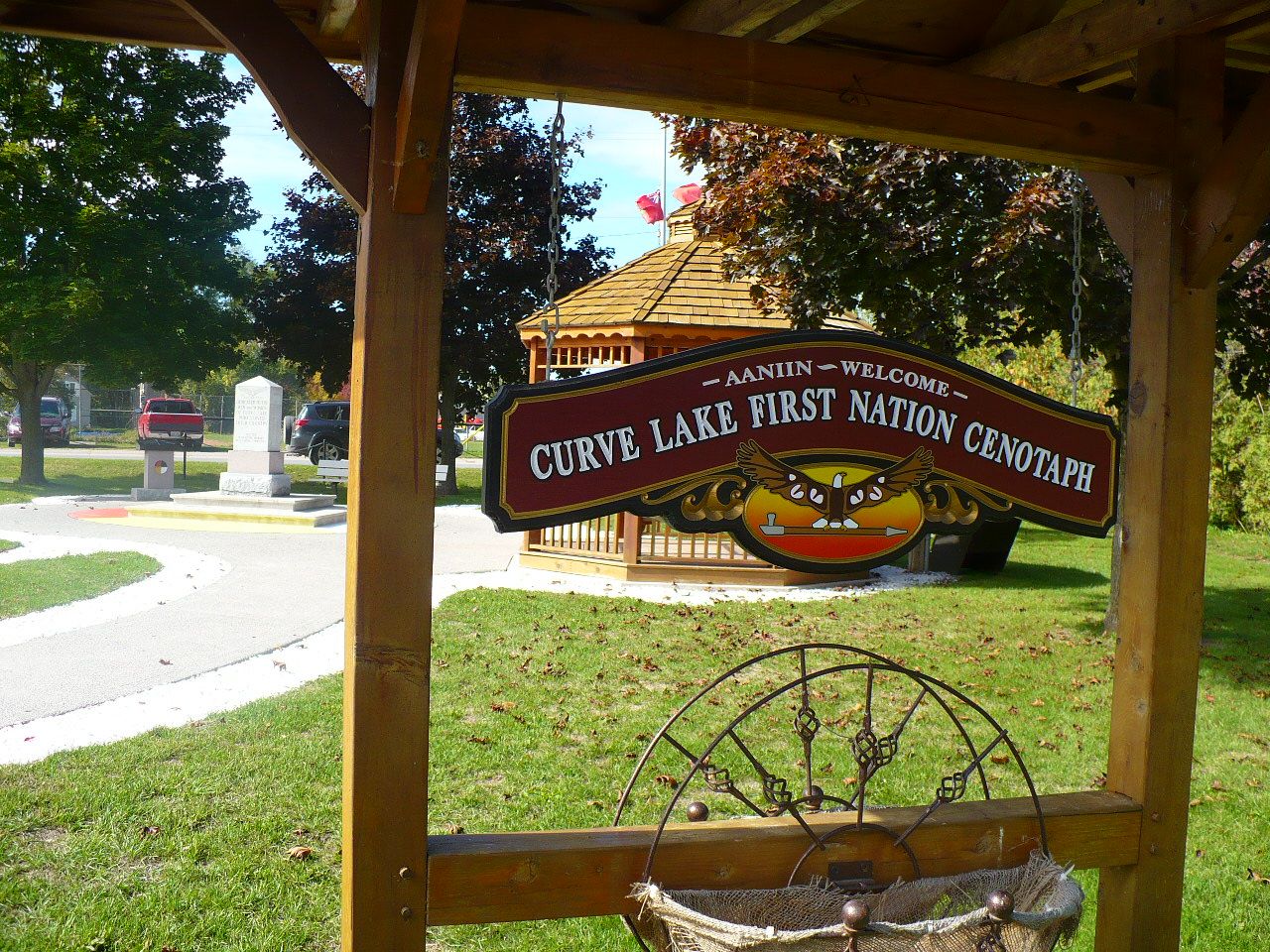 Marker text:
Front:
DEDICATED TO THE
MEN AND WOMEN
OF CURVE LAKE
WHO SERVED
THEIR COUNTRY
ERECTED
IN GRATEFUL MEMORY
BY A CARING COMMUNITY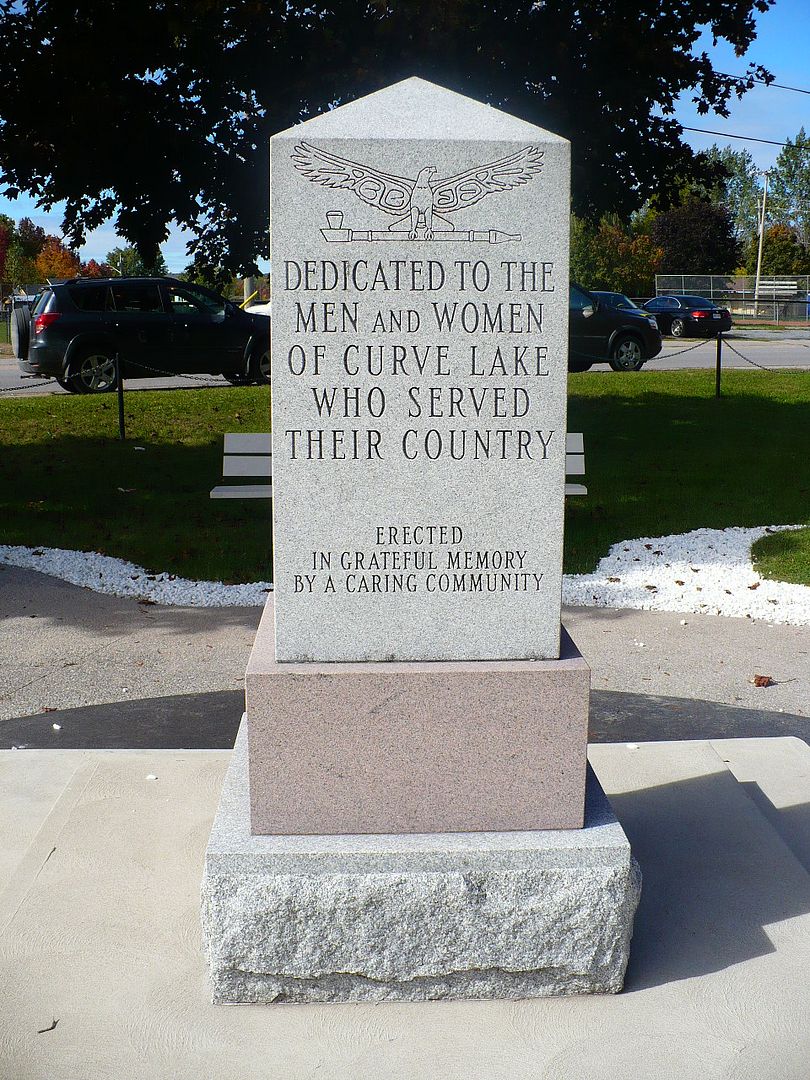 Left side:
WORLD WAR 2
1939-1945
PRIVATES
AUBREY COPPAWAY
EDWARD COPPAWAY
ELWOOD COPPAWAY
GEORGE IRONS
SIDNEY IRONS
COLEMAN JACOBS
JIMMY JACOBS
MARION JACOBS
WILFRED JACOBS
DALLAS JOHNSON
JOSHUA JOHNSON
CLIFFORD KNOTT
FRANCIS KNOTT
MURILAND KNOTT
BERTRAM McCUE
DUDLEY SHILLING
GEORGE SUNDAY
AUSTIN TAYLOR
BENJ. TAYLOR
HORACE TAYLOR
ISAAC TAYLOR
JOHN TAYLOR
LEWIS TAYLOR
MURNEY TAYLOR
ORVILLE TAYLOR
RUSS TAYLOR Sr.
ED. WHETUNG
HIRAM TAYLOR
WALLACE WILLIAMS
ED. JOHNSON
LLOYD BROWN
SILAS SHILLING
BERDINE TAYLOR
SEPTEMBER 6, 1987
CANADIAN ARMED FORCES
LARRY TAYLOR
HUGH TAYLOR
RICHARD (CHIEF) TAYLOR
JIMMY COPPAWAY
GARNER JOHNSON
VINCENT JACOBS
RANDELL KNOTT
MICHAEL CONWAY
LENNIE MUSKRATT
JAMES ALLISON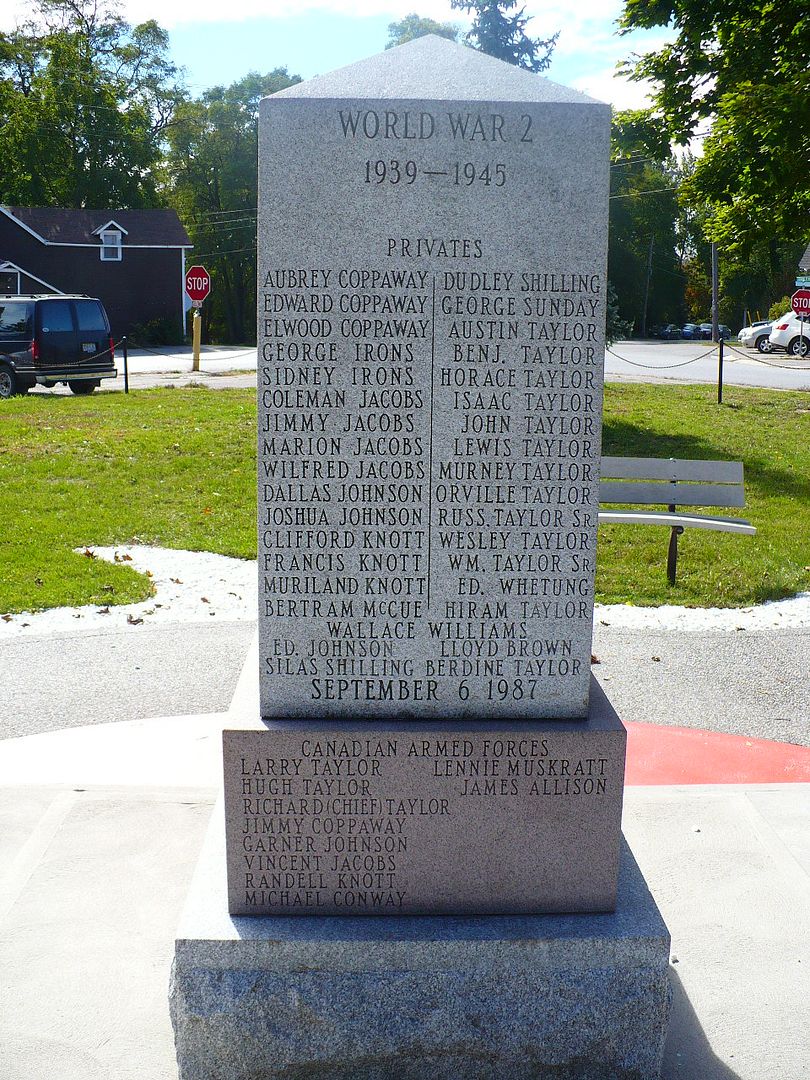 Rear:
WORLD WAR 1 1939-1945
AUSTIN BEAVER
WESLEY BEAVER
ALFRED COPPAWAY
JOHN IRONS
JACOB JACOB
AMOS JOHNSON
BILLIE JOHNSON
JOSHUA JOHNSON
EWARD JOHNSON
ALEXANDER KNOTT
ALLAN KNOTT
BERT McCUE
ABRAHAM TAYLOR
CHARLES TAYLOR
HIRAM TAYLOR
HORACE TAYLOR
ISAAC TAYLOR
RUSSELL TAYLOR
SAMUEL TAYLOR
THOMAS TAYLOR
WILLIE TAYLOR
ELIJAH TAYLOR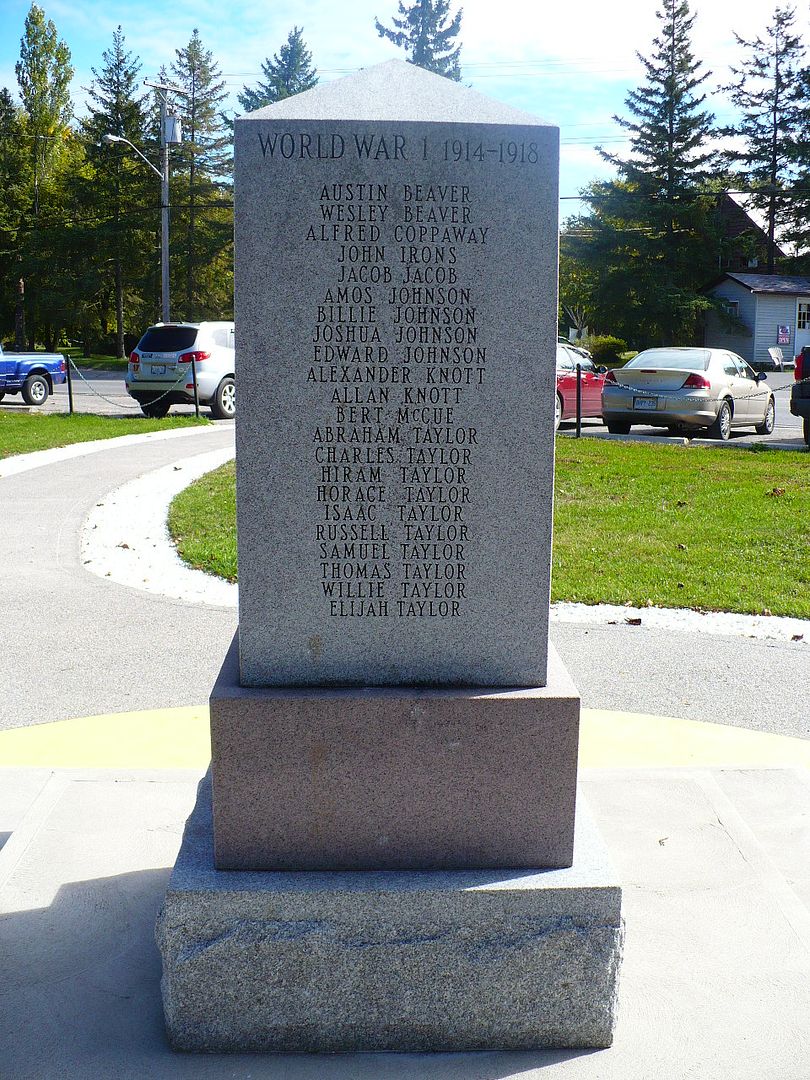 Right side:
WORLD WAR 2
CORPORALS
DALTON JACOBS
ALLEN TAYLOR
AIR WOMEN
MAMIE JOHNSON
LILLIAN TAYLOR
CATHARINE TAYLOR
GUNNERS
STEPHEN TAYLOR
AMOS IRONS
ALEC KNOTT
GEORGE TAYLOR
RICHARD C. TAYLOR
MILITARY POLICE
DUNCAN WHETUNG
LANCE BOMBARDIERS
CLAYTON McCUE
WILSON COPPAWAY
SIGNAL MAN
MURRAY WHETUNG
AIR WOMEN
EVELYN McCUE
MABEL BAKER
KOREA
CLIFFORD KNOTT
GRANT TAYLOR
VERNON KNOTT