Location: Perth County N 43 33.811 W 080 55.547
At 24 Temperance Street, beside the Legion and fairgrounds.
Erected in 1963, by the Royal Canadian Legion Branch #565 and the Mornington Agricultural Society, this fieldstone cairn rests at the entrance to the Milverton Fairgrounds, beside the Legion.
Once again a long list of names of those lost in the World Wars, relative to the size of this farming community, their sacrifice must be forever remembered.
At the left side of the memorial are plaques also dedicated to the pioneers of this region, and to the agricultural services of the people of Mornington Township.
Marker text:
Front:
IN MEMORY OF THEIR SACRIFICE
1914-1918 1939-1945
F. GRIFFIN - D. SMALL
C. RITTER - S. HENRY
M. COUTTS - J. BLAIR
E. FINK - N. McGUIRE
L. WAGNER - J. WYATT
W. ROE - W. SCHAEFER
P. SPENCER - A. YOST
A. FREEBORN
S. ATTRIDGE
K. JACK - H. SPENCER
D. WOODMAN
E. HAID - J. REIBLING
R. MANTZ - G. HOPF
L. STEMMLER
H. APPEL - R. JACK
F. ZULAUF D.F.M.
E. DIXSON - E. HARPER
J. DENSTEDT
CAPT. ADAM P. CHALMERS M.D.
JOHN K. CHALMERS
THOMAS M. KIRKLAND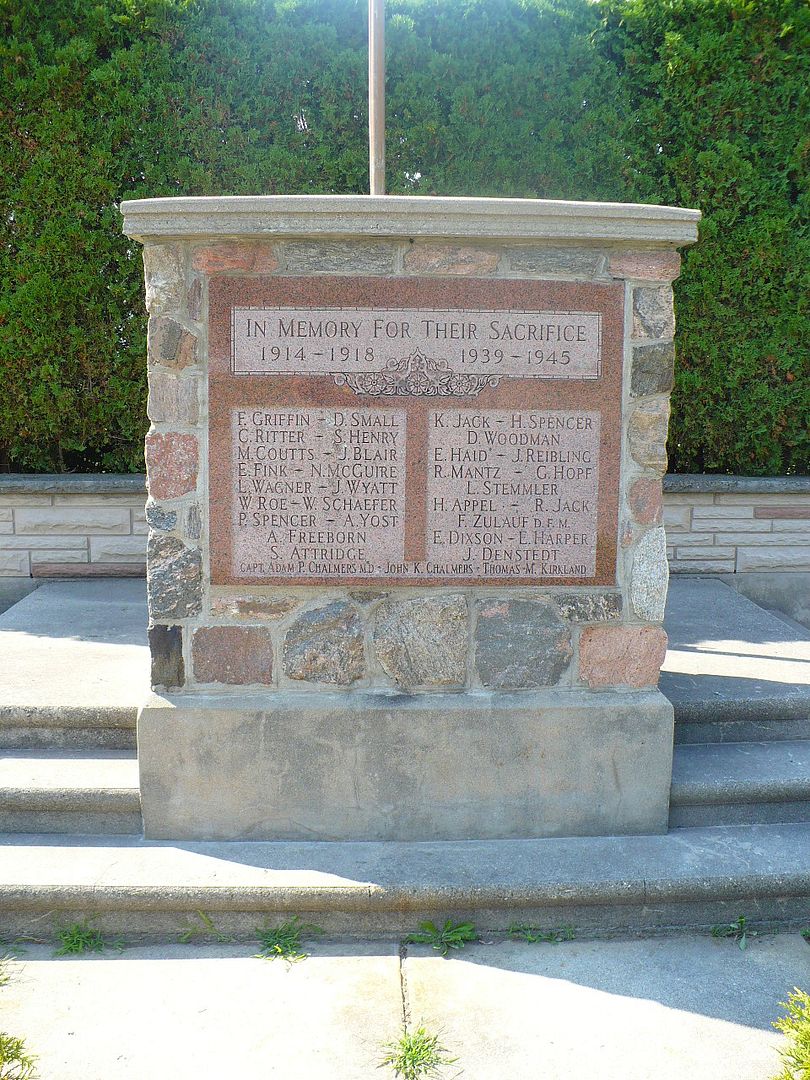 Right side:
TO PERPETUATE
THE MEMORY OF
OUR HONOURED DEAD
AND THOSE
WHO CARRIED ON
IN THE WARS OF
1914-1918 1939-1945
KOREAN WAR